Skip to Content
Book your stay
Choose your dates bellow and check availability for your stay.
BOOK DIRECT AND receive this BENEFITs
INSIDER ACCESS TO
PACKAGES & PROMOTIONS
Flexibility

FAQ
FAQ
Frequently Asked Questions
Is PlumpJack Inn Open?
Yes, PlumpJack Inn is open daily through the summer from May 25, 2022 - Nov 1, 2022 until our annual Fall closure in November. The hotel will reopen for the winter in early December. Hotel reservations can be made through April 1, 2024.
What is the latest news with the construction of the new hotel?
The planned construction of the new hotel is delayed until at least April 2025. Guests are able to submit proposals for any kind of group event including hotel rooms, private dinners, weddings, etc prior to April 1, 2025.
What is the cancellation policy at PlumpJack Inn?
Non-holiday reservations at PlumpJack Inn are subject to 7-day cancellation policy through April 30, 2024.
Cancellations must be made before 6pm, either 7 days prior to check-in for non-holiday reservations or 14 days prior to check-in for holiday reservations to avoid a cancellation fee of the deposit made at the time of booking.
Reservations made online can be modified with a reservation confirmation number and last name at PlumpJackInn.com. Our front desk is also available by phone 24 hours a day, 7 days a week to make any changes to your upcoming reservation.
All reservations must be guaranteed with a major credit card. No shows are charged at a 100% full room and tax. A valid credit card and photo ID must be presented upon arrival for verification and incidental charges. We unfortunately are unable to authorize debit cards at check in.
All Winter reservations with dates between December 1, 2022 - April 30, 2023 are required to pay a deposit of full room & tax at time of booking.
Holiday reservations require a 14-day cancellation. The 2022-23 Winter season holidays include: 12/16/22 – 1/1/23, 1/13/23 - 1/15/23, 2/17/23 - 2/26/23. Holiday reservations are required to pay a deposit of full room & tax at time of booking.

Promotional and discounted reservations are required to pay a deposit of full room & tax at time of booking.

Group reservations require a 30-day cancellation unless otherwise defined in the group contract.
Are dogs allowed at PlumpJack Inn?
Yes, PlumpJack Inn is a dog friendly hotel. A one time fee of $150 will be charged for one dog and $200 for two dogs during a guest's stay. A dog bed and bowl will be provided in each room when is pet added to the reservation.
10% of the dog fee from PumpJack Inn are donated to the Humane Society Truckee - Tahoe.
What are the operating hours of PlumpJack Cafe & Bar? Is Breakfast available?
For the summer of 2022 PlumpJack Cafe & Bar will be open 5 nights a week Thursday - Monday with the bar opening at 4:00pm and dinner at 5:00pm. During some private events in July the dining room will be closed to the public. View the cafe operational calendar with reservations available on OpenTable. Restaurant guests are asked to park in the main parking lot at Palisades Tahoe when coming to PlumpJack Cafe for dinner.
Unfortunately, breakfast is no longer available at PlumpJack Inn. The Village at Palisades Tahoe offers numerous options for breakfast including Coffeebar, Wildflour Baking Company (seasonal) and a Starbucks is located across the street from our entrance.
What are food and beverage options for guests when the cafe & bar are closed?
Does PlumpJack Inn charge a daily resort fee?
Yes, guests are charged a Resort Fee of $20/day which covers on-site parking, wifi along with pool & hot tub access. Complimentary cruiser bikes are available for all guests to use in addition to our bocce ball court, ping pong table and cornhole set.
Does PlumpJack Inn offer free parking for hotel guests?
Parking is included in our resort fee and we are happy to offer assistance with your luggage. Hotel guests receive a parking pass during check in and can park right next to the resort.
Is WIFI included for guests at PlumpJack Inn and Cafe?
Yes, all guests will be provided with a wifi password at check-in that will work throughout the hotel property. The wifi was recently upgraded in May 2022 with fast WiFi available in rooms and at the pool & cafe. Restaurant guests can request wifi access through a restaurant staff member or at our front desk.
Is the outdoor pool heated?
Our pool is not heated, but is kept at a comfortable temperature throughout the summer season. Our two large hot tubs are open year round for guests to use daily with temps between 100° - 102°.
How do I purchase a PlumpJack Inn gift certificate?
PlumpJack 'In-Store Only' Gift Cards are plastic cards that are mailed out to the recipient via USPS. They can only be redeemed in store at PlumpJack Wine & Spirits stores, Balboa Cafe, PlumpJack Winery, CADE Estate Winery, Odette Estate, PlumpJack Inn, PlumpJack Cafe and Bar, and PlumpJackSport.
These cards are NOT redeemable on our websites. They are shipped via USPS with a stamp, so they are not trackable.
To find out the balance of your gift card, please call 1-888-529-6578.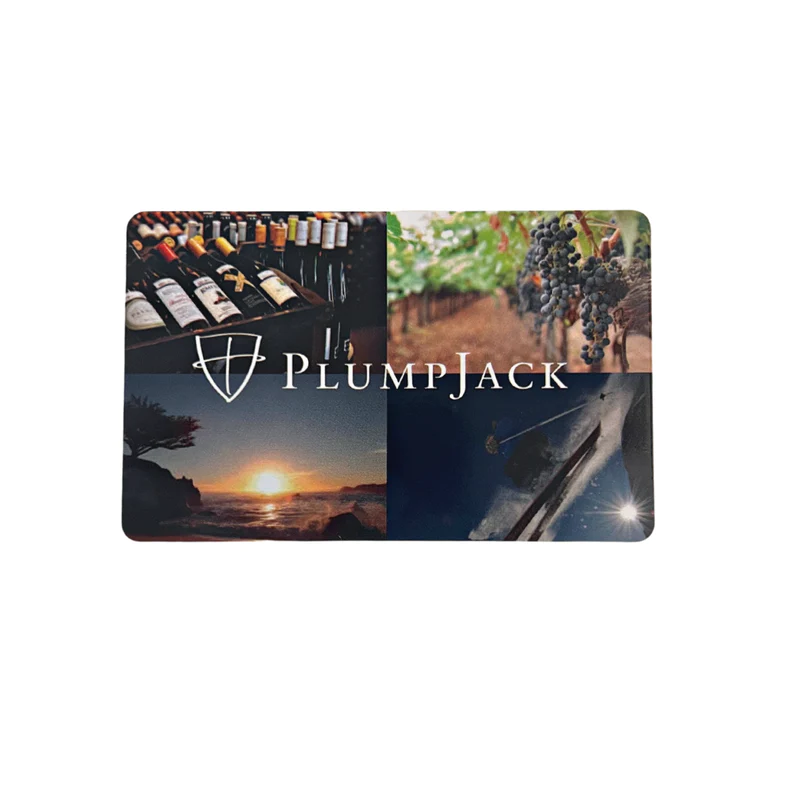 View PlumpJack Inn Property Map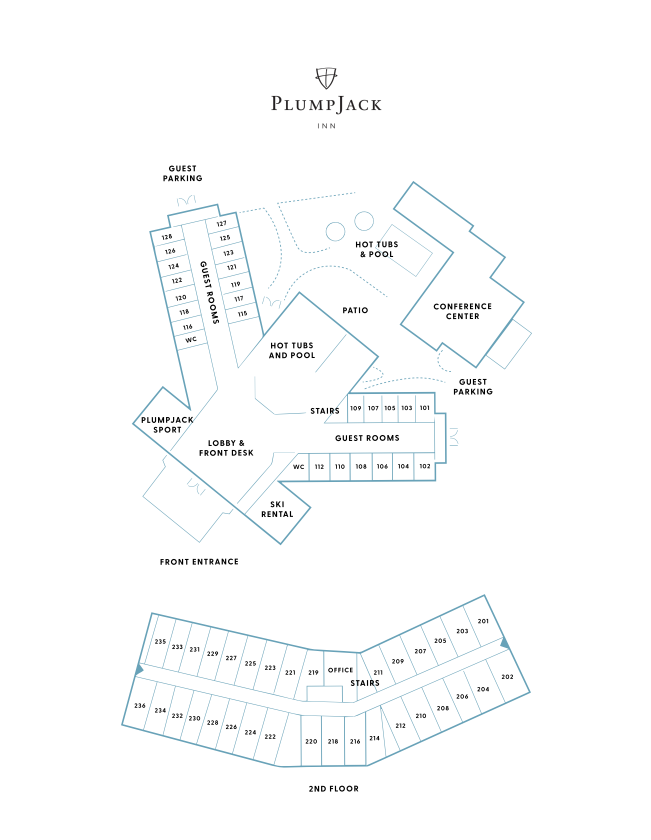 When is Check-in time at PlumpJack Inn?
Standard check in time for hotel guests is 4:00pm. Early check-in may be requested when available (based on occupancy) for an extra fee.
When is Check-out time at PlumpJack Inn?
Check out time for hotel guests is 11:00am. Late check out may be requested when available (based on occupancy) for an extra fee.
Do all the rooms at PlumpJack Inn have air conditioning?
Our eight suites are the only room types that are guaranteed to offer air conditioning, while our standard King or Two Queen rooms do not offer air conditioning. Guests staying in standard King & Queen rooms may request air conditioning for a extra fee of $25 per night based on availability.
How far in advance are you accepting group and wedding event requests?
The PlumpJack group and wedding event calendar is open until April 1, 2025. We are able to submit proposals for group business including hotel rooms, private dinners, weddings, etc until that date. You may contact our Director of Sales, Rob McCormick at rmccormick@plumpjack.com with inquiries or to request a proposal. Learn more
Why are the room rates higher on Expedia & Booking.com compared to booking directly on PlumpJackInn.com?
Our website will always offer the best prices and we encourage all of our guests to book directly with us online or by phone for the best guest experience. Special deals and packages are only available by bookings directly through PlumpJack and are not offered through 3rd party online travel websites.
Does PlumpJack Inn have a gym?
PlumpJack Inn no longer offers a gym on property. It has been replaced by PlumpJack Sport, a Ski wear, lifestyle and snow gear boutique with locations inside PlumpJack Inn and San Francisco. Hotel guests can request a gym bag at check-in which has free weights, a yoga mat and resistance bands for an in room workout.
Can I buy any PlumpJack wines at the hotel?
Yes, our bar and dinner menu feature all of the PlumpJack family of wines. Hotel guests can also buy wine directly and enjoy a bottle from the PlumpJack family of wines delivered to their room.
How can I purchase a PlumpJack robe?
PlumpJack ropes are available for purchase through the front desk.
Do you offer hypo allergenic pillows for guests?
We only offer our standard high quality microfiber pillows and do not have alternatives to offer guests.